A conservatory can be a great addition to your home, providing you with additional light and space. Although there may come a time where you need to replace your pre-existing conservatory roof and this comes with its own considerations.
We've outlined some of the main points you need to consider before replacing your conservatory roof.
Are there any existing internal or structural damages to your conservatory?
Before replacing your conservatory roof, you need to assess the whole structure of your conservatory. Any signs of damage to the structure need to be fixed before you can begin the installation of your new roof. If you're unsure what you're looking for, you can call out a professional to assess the condition first. At Poole Joinery we will always carry out checks on the structure of your conservatory, ensuring it will be strong enough to support a new roof before starting any work. We will never just sell a roof; we will carry out thorough checks of your entire conservatory before starting.
Is it worth replacing your conservatory roof?
The simple answer is yes! Replacing an old or damaged conservatory roof can definitely save you money. As conservatory roofs age they can become less energy efficient causing warmth from your home to escape. By replacing the roof, you will improve your energy and thermal efficiency and you'll notice a visible drop in your energy bills. Your home will retain its heat more effectively, allowing you to warm your home for less.
If you notice your conservatory roof has become damaged in any way you should think about having it replaced. What may first appear as a small damage could end up escalating, causing significant expensive damage to the interior of your home.
Replacing the roof of your conservatory could add more value to your property. If it's damaged or old, it could knock down the price of your property. If you want to know more about the potential value that could be added you should speak to your local estate agent.
What is the size of your budget?
Although you will see the most benefit from replacing your conservatory roof and it is significantly cheaper than replacing the entire conservatory, it is more costly than some other replacements. If you have a smaller budget for renovating your conservatory, you may find it more beneficial to replace your conservatory frame first. This improvement is half the cost of a replacement roof and can provide you with some much-needed insulation, energy efficiency and thermal efficiency. By taking this step first you could be giving yourself additional time to save for your roof replacement.
What conservatory roofing options are available?
When you're thinking of replacing your roof you need to think about what kind of roofing you want to add. Different roofing options can provide you with different benefits and styles so you can tailor your conservatory to your needs.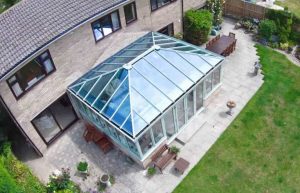 Glass roof
Opting for a glass roof will provide your conservatory with the maximum amount of natural light and create beautiful unrestricted views of the sky. Advances in glazing technology means you're now able to have a glass roof that regulates the temperature in your conservatory all year round.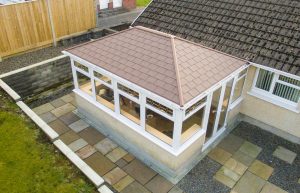 Tiled roof
Choosing a tiled roof will provide you with an unmatched level of thermal performance, keeping your conservatory comfortable all year round. You'll find a tiled roof heats for a very low cost. Tiled roofs need barely any maintenance due to their lightweight design. The interior of a tiled roof will be fully plastered making it feel fully part of your home.
(If you require more light but want to go for a tiled roof, Poole Joinery can fit full-length glazing panels or Velux rooflights  into the structure of your tiled roof.)
Do I need planning permission to replace my conservatory roof?
For a replacement roof, it's very uncommon that you will need to acquire planning permission, but you may have to deal with building regulations instead. Here at Poole Joinery, we take care of all building regulations on behalf of our customers to take the stress out of your installation process.
Gorgeous glazed extensions across Poole and Dorset
At Poole Joinery, we install a range of high performing glazed extensions in addition to replacing your conservatory roofing. With over 25 years of experience, we can guarantee that we will have a conservatory roof to meet your requirements. Get a quote today or give one of our specialists a call on 01202661299.