Your front door is one of the most important parts of your house. It's the last thing you see when you leave, and the first thing you see when you come home. Composite and uPVC are by far the two most popular varieties of door material. uPVC's simplicity and affordability makes it the market leader, but Poole Joinery's advanced composite door designs are also a worthwhile investment. To find out which is best for your home, here are the 5 main differences between uPVC and composite doors.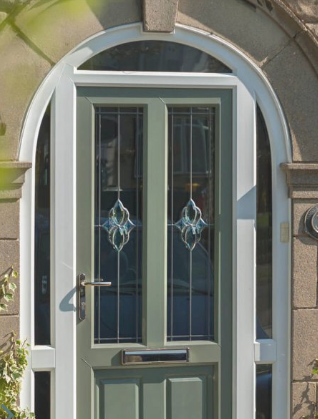 The actual materials

uPVC stands for 'unplasticised Poly Vinyl Chloride' and is a kind of raw plastic that can be manufactured into many door spaces and styles.

Composite doors, by contrast, are made from two or more materials combined under high-pressure conditions, typically making them thicker doors. This allows them to weld together the best elements from the best materials, giving them an exceptionally high level of performance.

Both door materials can be easily modified to have almost any colour and replicate the finish of materials like authentic timber.

Better insulation

Poole Joinery's uPVC doors provide excellent efficiency and can achieve A+ energy ratings. Plastic is not a good conductor, making it harder for heat to pass through and escape your home!

For that next level performance, our composite doors have authentic timber cores which, combined with our insulated outer frames, provide a higher-density and higher-performing level of insulation.

Choosing uPVC or composite doors with Poole Joinery means a cosier home with lower heating bills!

Enhanced security features

Composite doors' customisable designs make room for great security enhancements. While our uPVC doors' multi-point lock systems are up to Secure By Design standards, our range of composite doors use the most state-of-the-art security hardware to keep your home safe.

Our Britdoors composite doors use both a central deadbolt and a hardened steel hookbolt as standard, while our Solidor composite doors contain Ultion lock cylinders, which can prevent intruders from gaining entry, even if the lock has been snapped twice!

Authentic door designs

Both our uPVC and composite doors can be personalised to suit your home's exterior and interior colours. We can add any range of spyholes, letterboxes or decorative glass to make your door as contemporary or traditional as you want.

We can also add a stunning woodgrain finish to both materials to make them look just like authentic timber. This will add a charming, traditional touch to your home, without all the hassle of maintaining a real wooden door with oiling and varnishing.

More durable doors

The inconsistent Dorset weather won't damage or discolour our uPVC doors, but our fantastic range of composite doors can weather even the most severe storm.

Unlike other, low-performing composite doors gel-coated with Glass Reinforced Plastic (GRP), our Solidor products use thermo-plastic skin to guarantee sturdy longevity.

Our laminated timber internal frames also make the doors resistant to twisting and warping.
Expert door design and installation in Poole, Bournemouth, and across Dorset
Whatever your style or budget, Poole Joinery can provide a quality uPVC or composite door for your home. For more information, please feel free to contact us or book an appointment at our showroom.
Related reads:
What type of front door should I choose?
Should you choose aluminium bifold doors or uPVC bifold doors?