When you're looking to replace your front door, it's easy to feel overwhelmed. Poole Joinery wants your experience to be as simple as possible. To help you with your front door replacement we've compiled a list of our most frequently asked questions about doors.
What material should I choose for my replacement door?
There are two main choices when you're looking for a front door material and these are composite and uPVC. Both have an array of benefits and deciding between the two is completely down to personal preference.
Read more: 5 differences between uPVC & composite doors
uPVC entrance door in Poole
A uPVC front door is a door that you can depend on. They're built to last with minimal maintenance, at a lower cost than its competitors. Despite its more modern appearance a uPVC door can be designed to suit any property, especially as you can add a wooden look finish.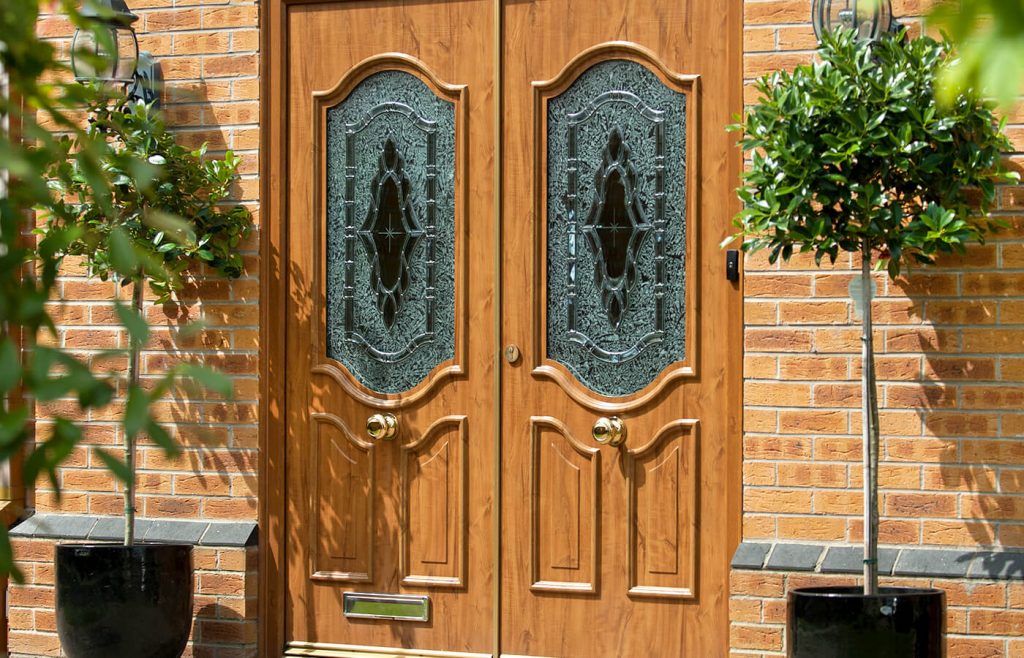 Are uPVC doors energy efficient?
Heat doesn't easily travel through uPVC as it's a poor conductor, which makes it a great choice for front doors as it keeps the heat in your home. Energy ratings of 'A+' can be reached with a uPVC entrance door, one of the best levels you'll come across for entrance doors. With such great thermal efficiency, you'll be able to heat your home for less seeing a noticeable drop in your energy bills.
Are uPVC doors secure?
As standard Poole Joinery fit all of our uPVC doors with advanced multi-point locking systems, this prevents any weak spots in your doors locking system. All of our doors have been manufactured to Secured By Design standards, providing you with even more peace of mind.
How sustainable are uPVC doors?
Advances in product innovation have ensured that uPVC is a sustainable option for home improvement products. uPVC can be fully recycled after its life and can often be re-purposed into a new product. Replacing an old inefficient door with a new uPVC one will reduce the energy you use, making it an even more eco-friendly choice.
Composite entrance door in Poole
It's impossible to go wrong with a composite door in Poole, their level of quality is unmatched by any of its competitors, making it the perfect choice for your home.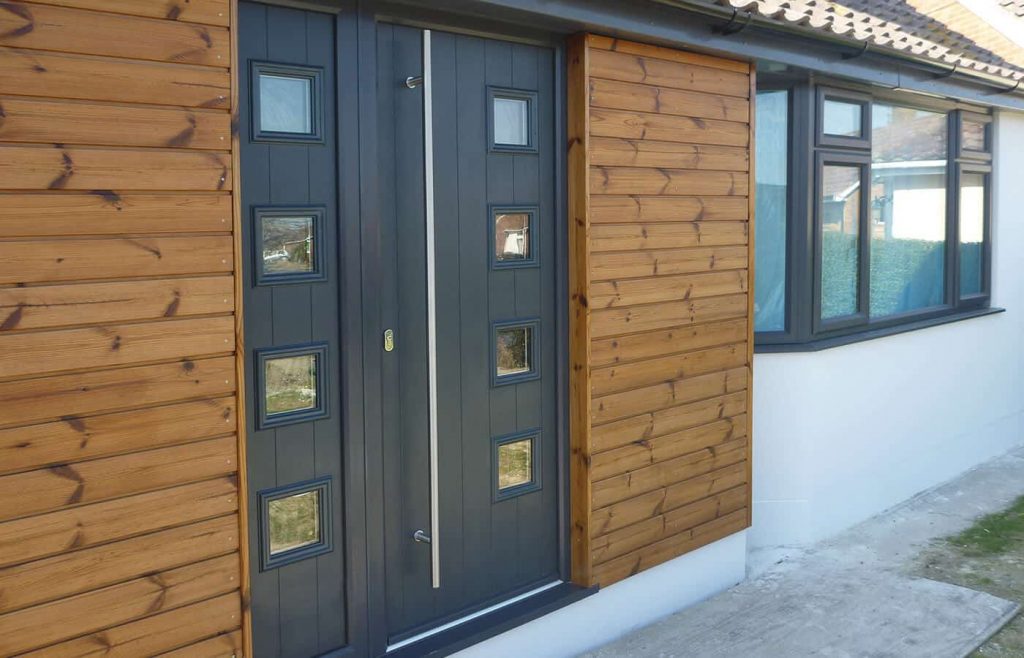 Are composite doors energy efficient?
At Poole Joinery our composite doors feature a solid timber core wrapped in a Glass Reinforced Plastic, creating a door with exceptional levels of thermal insulation. We ensure that we install every door with a perfect fit, which eliminates draughts that often cause heat loss. With this additional level of insulation, you'll find yourself heating your home for less this winter.
Are composite doors secure?
Composite doors come with a layer of Glass Reinforced Plastic wrapped around their exterior, this material is extremely resistant to damages including significant impacts. The combination of the GRP skin and the timber core create an ultra-reinforced front door. Each of our Britdoors are fitted with central deadbolt locking systems and a hardened steel hookbolt, leaving your home safe and secure. Our Solidor variants are fitted with AV3 automatic multi-point locks, that secure the door are numerous points around the frame. An additional security feature of the Solidor composite door are Ultion lock cylinders, which protect your home even if an intruder manages to snap your lock twice!
How sustainable are composite doors?
Not all composite doors are able to be recycled however all our Solidor composite doors are fully recyclable after their extensive lifespan. As they're incredibly thermally efficient composite doors are eco-friendly and provide minimal energy wastage in your home.
Read more: What are the advantages of a composite door? 
How much does a replacement door cost?
The price of a replacement door can vary depending on the material, style and additional accessories you choose for your front door. At Poole Joinery we strive to make all our doors bespoke to the customer. This makes giving you a rough price more difficult, but you can contact us for a free quote today and we'll be happy to assist you.
What colour can I choose for my new front door?
Both our uPVC and composite doors are available in a wide variety of traditional and contemporary colours to suit any aesthetic. Adding a wood colour or foil to your front door can give you the effect of a real timber door without the more strenuous maintenance it can bring.
Read more: 3 beautiful composite front doors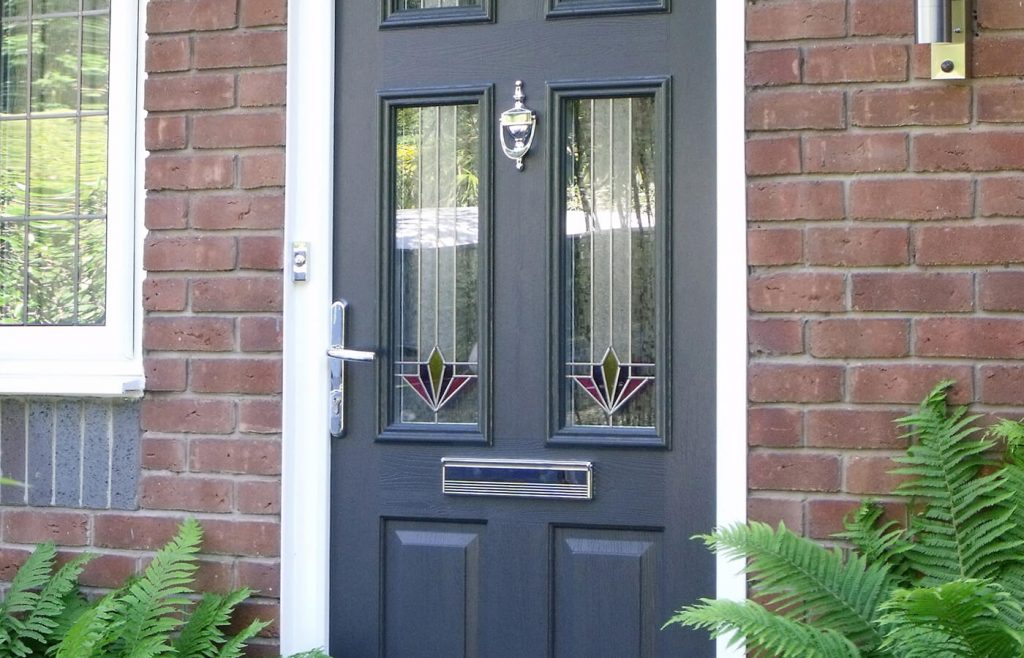 Can I replace my door myself?
Replacing your own door is definitely not recommend unless you're a professional. You need several professional tools to remove your existing door and replace it with a new one. A professional installation company will have access to high-quality products and tools and are often able to provide aftercare and warranties with every installation. An installer will ensure that your door is fit perfectly, leaving you with no nasty gaps or cracks.
Expert door design and installation in Poole, Bournemouth and across Dorset
Regardless of your budget and style, Poole Joinery are confident we'll be able to provide you with a high-quality uPVC or composite door for your home. For more information, please contact us or book an appointment at our showroom.
Alternatively, you can request a free quote online today.