Do you find yourself walking past someone's house and thinking "that's a lovely door"? The colour and style of the door match the aesthetics of the house perfectly; the wood look giving the appearance of a classic wood entrance door, ultimately sitting beautifully amongst the bricks.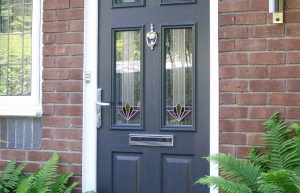 Thermally efficient, ultra-secure and built to last, it's impossible to go wrong with a composite door.
However, when it comes to selecting a colour for your front door do you struggle? There are too many colour choices, aren't there? And even though you could paint your door if you change your mind, the real question is whether you should. The colour that you choose for your new front door will run through its entirety, keeping the colour strong for many years. This means that if you did decide to paint over the original colour, you may not get the finish that you would like. As such, we would suggest avoiding painting your composite door.
Instead, let us help you by sharing our most popular composite door colours for inspiration.
1. An anthracite grey composite door
Coming in at number one in popularity is the grey composite door. From agate grey (RAL 7038) to anthracite grey (RAL 7016), opting for a grey neutral colour will create a soft, streamlined, simplistic aesthetic, and is ultimately a timeless and practical colour, perfect for coordinating with your chartwell green uPVC vertical sliding windows.
2. A jet black composite door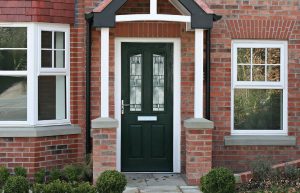 Number two is the trusting black colour. A colour associated with authority, sophistication, and elegance. A  colour that we know you want your composite door to be. Imagine your jet black (RAL 9005) composite door standing proudly at the front of your house. Its elegance standing proudly as the door on 10 Downing Street in London stands.
3. A flame red composite door
Number three is the brightest and boldest colour of the three, the reds. Associated with passion and power, there is a shade of red to compliment to look and feel of every home. From rouge clair brilliant (RAL 3026) and flame red (RAL 3000) to rouge signalisation (RAL 3020) and rouge tomate (RAL 3013). We are sure to find the perfect shade for you.
If you are still unsure as to what colour to opt for, our coloured windows and door ideas will hopefully inspire you further.
Regardless, however, of colour choice, our Poole Joinery composite doors are made from a combination of timber and uPVC materials and expert manufacturing techniques.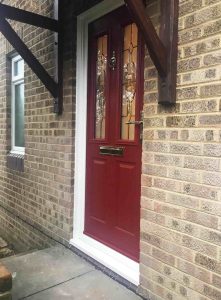 With their solid timber core creating exceptional levels of insulation and providing incredible resistance to twisting and warping overtime, the composite door guarantees longevity and great value for money.
What is even better is that our composite doors are fitted with an AV3 mechanical automatic multi-point locking system, which secures the door at numerous points – more commonly the top and bottom – around the door frame. Automatically locking when the door is pulled shut, this locking mechanism guarantees no slamming of the door and prevents any unwanted damage. Something we know our customers love to hear!
When looking for a new front or back door for your home, it is impossible to go wrong with a composite door. These high-performance entrance doors are renowned for a level of quality, lasting quality, and longevity. However, if a composite door is not for you then we do offer other doors including uPVC entrance doors and stable doors; all of which come with a 10-year guarantee.
Contact us now – we would love to help you.
Check out our door FAQs for more information.
Read our related blogs:
What type of front door should I choose?
Should you choose aluminium bifold doors or uPVC bifold doors?