No-one can blame you if you're drawn to the modern elegance that bifold doors exude. Complementing both residential and commercial applications, everyone loves the way that these architectural gems merge indoor and outdoor spaces together whilst transforming smaller spaces by inviting copious amounts of light inside.
The question is: What's the best type of bifold door for your project? Aluminium or uPVC?
To save you time, we've compared the top five qualities of aluminium bi-fold doors and uPVC bi-folds below.
Aluminium bifold doors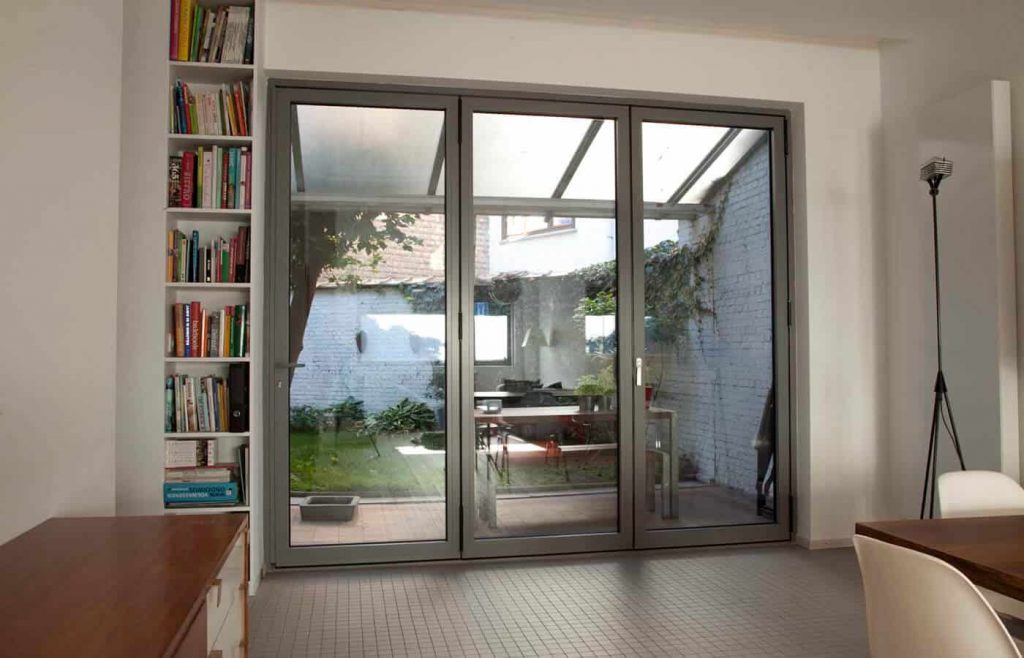 Appearance/Style
Aluminium has been the 'go-to' material for commercial projects for as long as we can remember, and for good reason. But as the need for a more modern, industrial look increases, combined with the on-trend desire to amplify uninterrupted views, the slender sightlines of aluminium always come out on top. Aluminium bifold doors are also available in any RAL colour, offering the ultimate freedom of expression.
Security
Our aluminium bifold doors are equipped with multi-point locks on the sashes and shoot-bolt locking for any floating mullions.
Thermal efficiency
Aluminium bifold doors from Poole Joinery feature cutting-edge polyamide thermal break technology. Polyamide thermal breaks rapidly reduce the amount of heat transference, which keeps your home incredibly warm and comfortable.
Strength & Endurance
Up to 3½ times stronger than uPVC, and up to 40 times stronger than timber, aluminium copes well under the harshest of weather condition; unable to swell, warp, flake or corrode. Furthermore, marine-grade aluminium upgrades are possible to retain the quality of the door for longer in marine and coastal environments. With a life expectancy of around 45 years, aluminium bifold doors allow you to get the most out of your home.
Cost
Aluminium bi-folds tend to cost more than uPVC bifold doors, as the manufacturing process is much more complicated. They are, of course, a solid investment that's likely to add value to your Dorset home, whilst lasting much longer than a uPVC bifold door.
uPVC bifold doors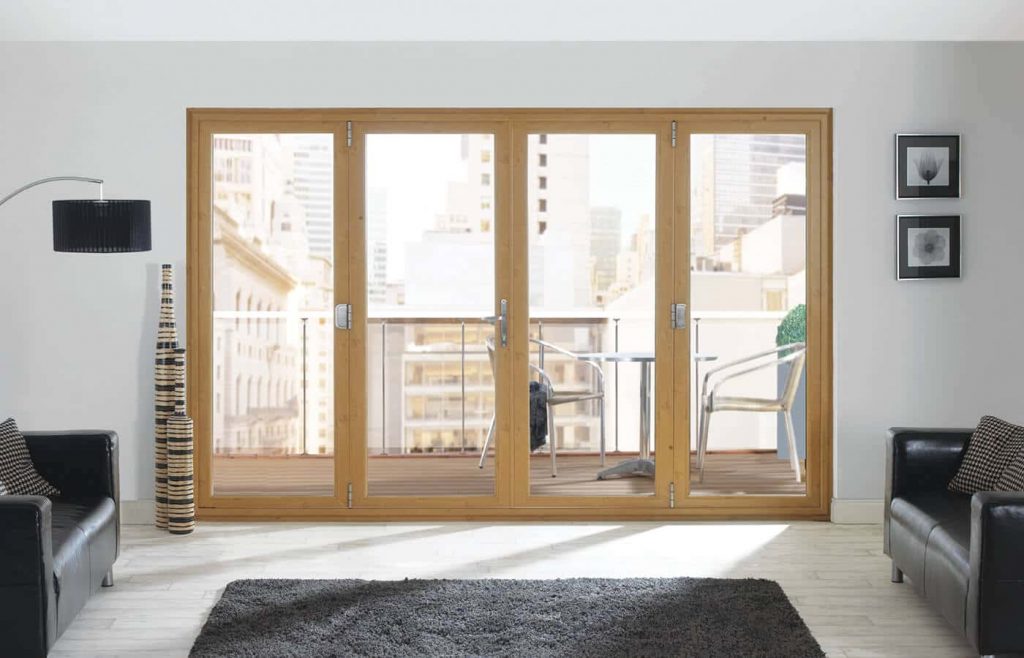 Appearance/Style
Associated with more modern developments, rather than period properties, uPVC offers a clean, low maintenance look that can be enhanced further with a range of convincing woodgrain effects.
Safety & Security
Our uPVC bi-fold doors are equipped with a 3-star Diamond rated lock cylinder, which includes a fold-flat 'D' handle that engages the shoot-bolts when the door is locked.
Thermal efficiency
uPVC is exceptionally insulating, able to achieve U-values as low as 1.3 W/m2k. Don't be surprised if your energy bills start to shrink, as uPVC frames are so thermally efficient you won't have to use your heating as much!
Strength & Endurance
One of the drawbacks of uPVC is that it can suffer from extreme temperature changes; which can result in warping, weakening and difficulty in opening and closing the doors. Don't get us wrong; uPVC is strong, aluminium is just stronger. With a life expectancy of around 25-30 years, although a shorter life expectancy than most home improvement materials, you can look forward to many enjoyable years ahead with high-quality uPVC bifold doors from Poole Joinery.
Cost
Cost is at the end of each list because it shouldn't be the 'be-all and end-all' of your decision-making process. That said, because uPVC is mass-produced, uPVC bifold doors tend to work out the lowest priced option – ideal if you're sticking to a budget.
Aluminium bifold doors vs uPVC bi-folds
For quick reference, please make a note of the differences between aluminium bifold doors and uPVC bifold doors outlined below.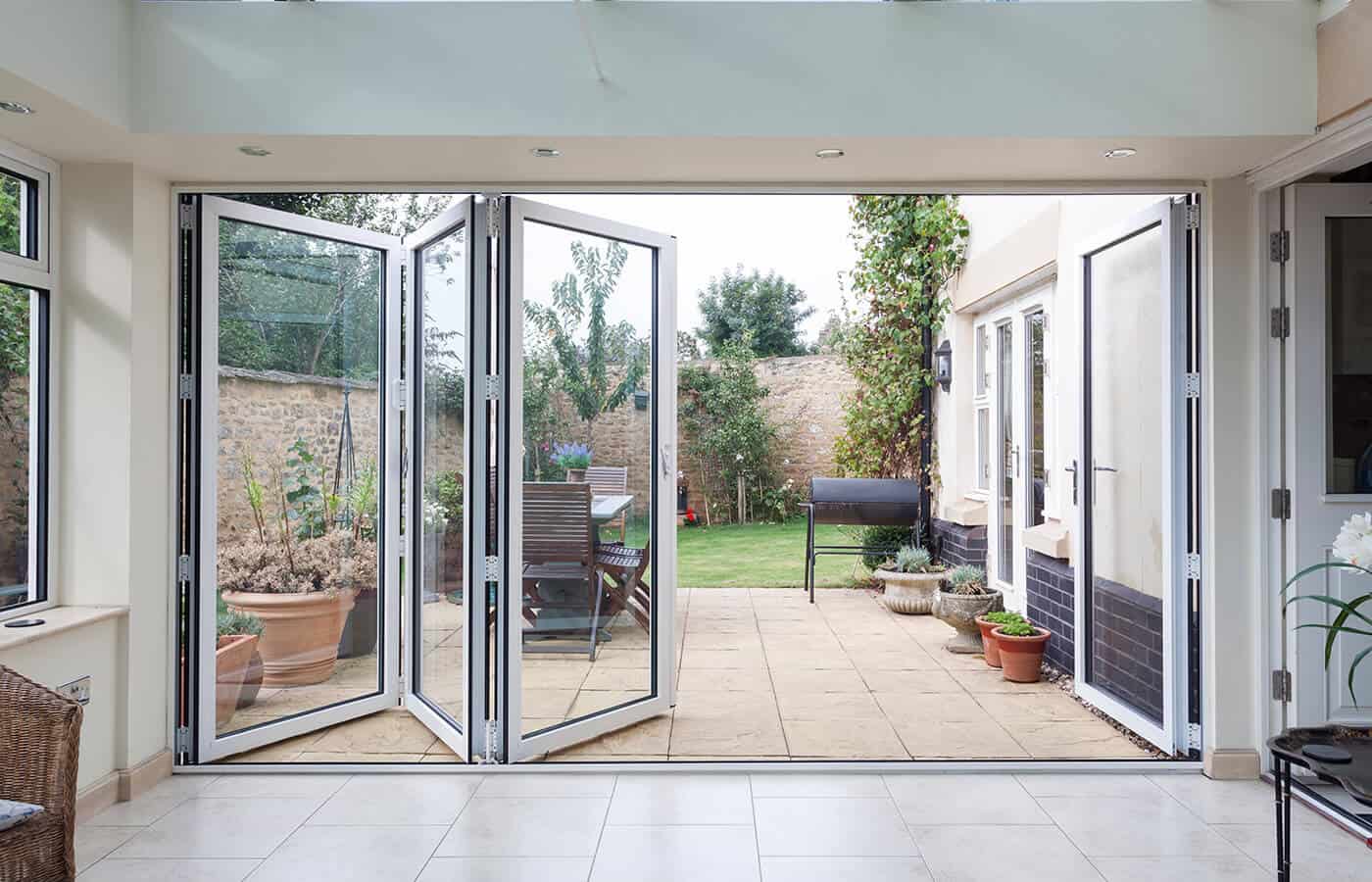 | | | |
| --- | --- | --- |
| | Aluminium bifold doors | uPVC bifold doors |
| Strong | 🗸 | 🗸 |
| U-value | 1.5 W/m2k | 1.3 W/m2k |
| Low cost | ✘ | 🗸 |
| Lightweight | 🗸 | 🗸 |
| Pest resistant | 🗸 | 🗸 |
| Slim sightlines | 🗸 | ✘ |
| 100% recyclable | 🗸 | 🗸 |
| Low maintenance | 🗸 | 🗸 |
| Triple glazing available | 🗸 | 🗸 |
| Thermal break technology | 🗸 | ✘ |
| Marine-grade finish | 🗸 | ✘ |
| Wide range of colours & finishes | 🗸 | 🗸 |
| Won't swell, warp, flake or corrode | 🗸 | ✘ |
Bifold doors in Bournemouth, Poole, Dorchester and throughout Dorset
Whether you're interested in aluminium bifold doors, uPVC doors or you're still undecided, get in touch with a Poole Joinery expert today to discuss your options further. You can also book an appointment for our showroom or a home visit.