Your windows and doors are the face of your home. It is your chance to create a lasting first impression with both guests and passers-by. The colour you choose for your windows and doors provides an insight into your personality and individual sense of style, and over the last decade, homeowners and businesses across Dorset have really started to take this into consideration. Not only this, your windows and doors are openings into your own personal retreat, and the colour that will welcome you home at the end of the day, so it's definitely worth putting some thought into the colour of your windows and doors.
With a huge choice of RAL colours, Renolit colours and finishes to choose from, we are certain we can help you find the perfect colour solution for your uPVC or aluminium windows and doors.
Go bright and bold with your windows and doors colour choices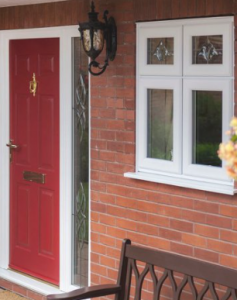 For a lot of people, incorporating bright colours into their home's décor means stepping out of their comfort zone. Sticking to a neutral palette can be the safer option, but your windows and doors are a much smaller area to commit to than an entire room, so why not be brave and experiment? Vibrant colours can create a stunning, cheery, entrance to your home even on a grey day – which we experience all too often here in the UK!
Even better, all of our aluminium, uPVC and composite material options are so low maintenance, all they need is a quick wipe over once in a while to keep their colour just as brilliant as the day your they were fitted.
Play around with pastel colours on your windows and doors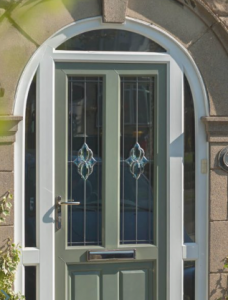 Pastel colours are a brilliant choice for homeowners who want to incorporate a splash of colour to their homes exterior whilst keeping it soft and light. The softness of these colours makes them non-confronting and they tend to work particularly well on woodgrain finish front doors and windows or for anyone trying to create a modern country home aesthetic. That being said, pastel front doors can add a pop of fun into minimalist, modern, homes too. The general feeling with pastels is one of openness, softness, calmness and composure.
What's more, pastels have always been popular colour choices for the windows and doors of properties by the sea, so they are an ideal choice for our customers with homes in the beautiful coastal surroundings of Dorset.
Keep it cool with neutral tones for your windows and doors
If you want to create a more understated and neutral aesthetic, consider picking a colour that works with other elements of your home. Think about the colour and style of your brickwork and consider the surroundings of your home. Neutral tones can allow you to build up colour and intrigue elsewhere, for example, you could keep your windows a neutral tone and make a bold statement with the colour of your front door. The options are endless and it is all entirely down to your own personal taste.
Enhance your properties heritage with wood-effect windows and doors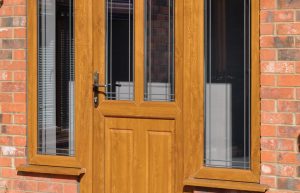 Our Heritage colour collection has been specifically designed to help you put together the perfect colour palette for your home. Our beautiful range of colours takes inspiration directly from nature to harmonise perfectly with your home and its surroundings, ensuring it looks beautiful for years to come. The beautiful timber effect finish gives an authentic charm to your home with all the benefits and modern innovations of uPVC or aluminium.
Choose Poole Joinery for your replacement windows and doors
If you are looking to update your windows and doors and you would like to discuss the available styles, colours and configurations, we are ready to help. At Poole Joinery, we have been installing high-performance windows and doors in Dorset for over 25 years. Get in touch with our expert team on 01202 661299 or fill in our online quote form. You can also visit our showroom to get a real feel for our beautiful product selection.