When you're looking for a high-quality home improvement, there's nothing better than being able to see and appreciate the quality for yourself. With this in mind, we thought we'd share a stunning local case study with you that we're incredibly proud of.
Our expertise was recently called upon to extend the Cowdroy family home in Bournemouth. The Cowdroy family wanted to create an extension on their bungalow that served as a game room so that their son, who is in the top two in the county for snooker, had somewhere he could practice. Later down the line, they have plans to turn this room into an extra family living space that can be enjoyed all year round.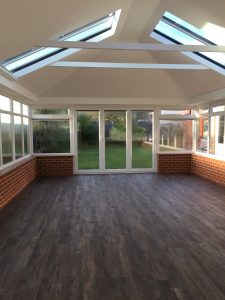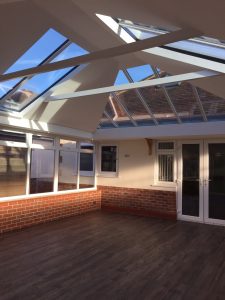 White uPVC Windows
For the windows of their new conservatory, the Cowdroy family chose white uPVC as the eir frame material. uPVC remains the UK's favourite choice of window material, and when we look at the benefits, it's not hard to see why! It is known for providing the highest level of thermal comfort as well as being extremely durable and long-lasting.
Low cost: uPVC tends to be considerably cheaper than other materials. Homeowners can often expect a much more affordable price when choosing uPVC windows.
Low maintenance:  Unlike timber, you will not see any signs of rot or weather damage due to the extremely durable nature of uPVC. uPVC only requires a quick wipe down with a damp cloth every now and again to keep it looking as good as new. Not only is it inherently low maintenance, but it is also great at providing acoustic insulation and studies show it can reduce outside noise by as much as 70%.
Thermally efficient and secure: Our uPVC windows are extremely energy efficient so installing them can really help to reduce heating costs and keep your property nice and warm. Due to its resilience, strength and robustness, uPVC is also very reliable when it comes to your home security.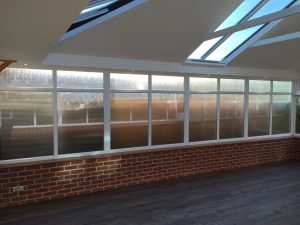 Livinroof Ultraframe solid roof system
At the time of installation, this beautifully impressive Ultraframe Livinroof was one of the largest in the UK.
With a Livinroof by Ultraframe, homeowners no longer have to choose between a solid or glass conservatory roof because this advanced solution combines the best elements of both. A Livinroof lets homeowners extend their living space to create a whole new room that is light, bright, and suitable for use all year round. Enjoy all of the sense of privacy and comfort that comes with a tiled roof, but never compromise on natural light.
A Livinroof can be installed in any shape and the glazing can be installed anywhere so you can focus the light wherever you need it most.
White uPVC external bifold doors
The Cowdroy family opted for our super energy-efficient and low-maintenance white uPVC bifold doors leading from their new conservatory into their garden. The three-leaf configuration that the family opted for creates a beautiful continuation between the indoor and outdoor space with open views of their leafy green garden.
Bifold doors, as opposed to sliding or French doors, open by folding back against themselves in a concertina-style. This means that when the panels are fully opened and stacked against the wall, the opening space in your home can be maximised by up to 90%. If desired, bifold doors can even replace a full wall, giving you a completely uninhibited view of your outside space.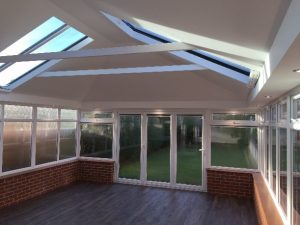 White uPVC internal French doors
For the internal doors leading from the Cowdroy's home into their new conservatory, they decided on a set of charming and traditional French doors. The extensive opening allows unrestricted access, whilst maximising on light and ventilation. They serve as a practical entry into their conservatory and bring the extension and the rest of the home together from the inside.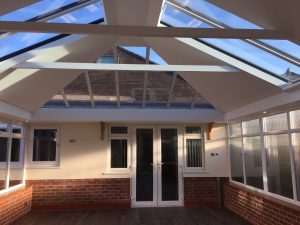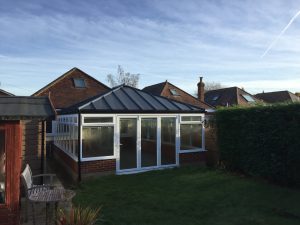 Improve, don't move, with a conservatory from Poole Joinery
If you need more space or another room, adding an extension such as a conservatory will be far more cost-effective than moving house. Adding an extension is far less complicated, less time-consuming, and will ultimately increase the value of your home so that when the time comes and you do decide to move, you will get a great return on investment.
Taking just 12 weeks to complete, if you've been inspired by this contemporary conservatory project, be sure to book an appointment to visit our showroom, get a quote or contact us to discuss your home improvement requirements further. Trading for over 25 years and providing comprehensive 10-year work guarantees as standard, Poole Joinery truly is 'the name you can trust.'