Is your home suffering from uncomfortable draughts? Or are you worried that your home's exterior may appear worn and dated? If so, it may be time to update your entrance door. To help you decide which entrance door is best for your home, we've put together this handy blog which contains answers to a lot of your frequently asked questions about what type of front door is best for your home in Poole or the surrounding area.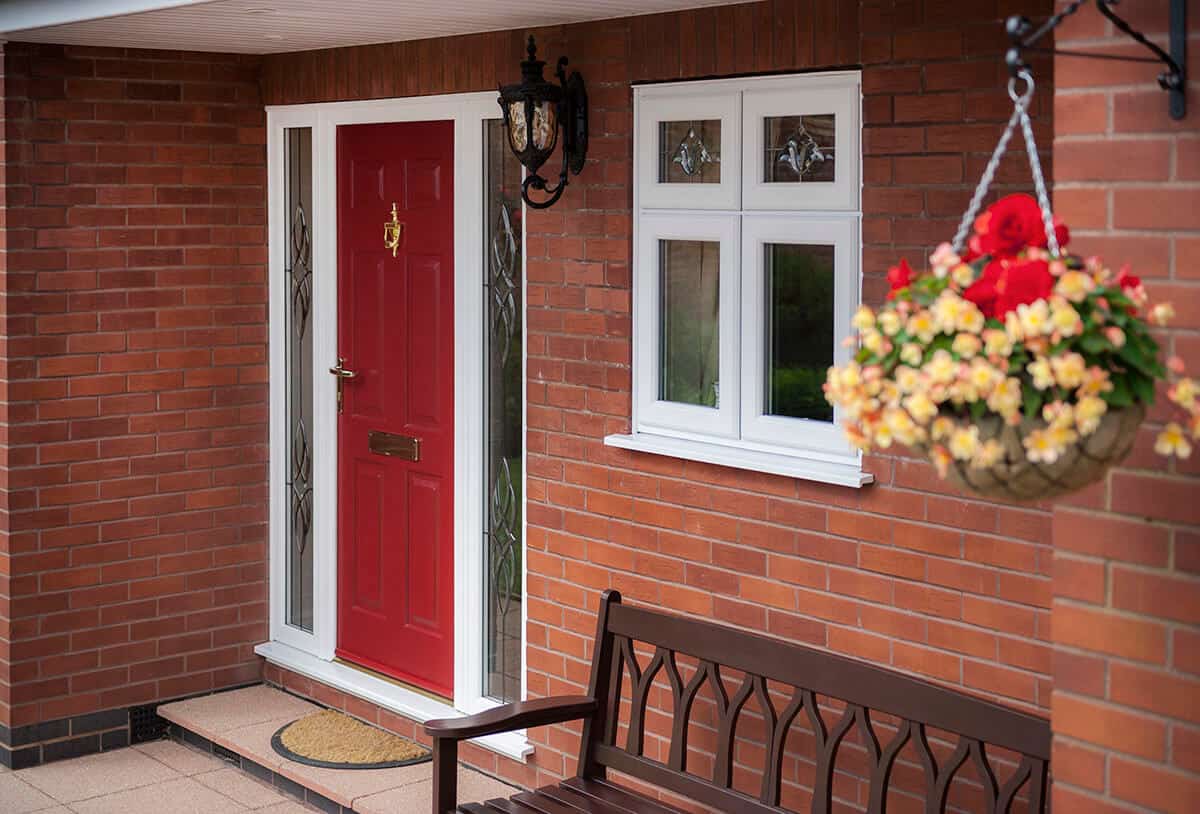 Ultra-efficient uPVC entrance doors
uPVC doors are renowned for the following qualities:
style
reliability
affordability
Some homeowners are shocked to find out that, despite their reasonable price, uPVC doors make a great addition to a variety of property styles throughout Poole and Dorset.
What colours are available with uPVC doors?
Our uPVC doors come in a wide range of over 150+ RAL colours that can help magnify your home's style. 'Chartwell Green', which takes its name from one of Churchill's homes, is a perfect colour for all styles of building, whether modern or traditional or how about opting for a grey composite door in 'Anthracite Grey'? Whatever your colour preference, we guarantee to have one that will take your fancy.
How energy efficient are uPVC doors?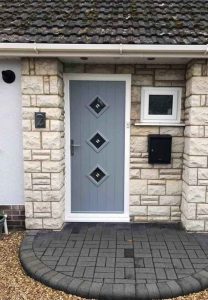 Updating your entrance doors is a great way to improve your home's thermal efficiency and reduce your home's energy consumption. Due to uPVC's amazing insulating properties, heat doesn't travel through it. This means that energy ratings of "A+" can be achieved, saving you up to £110 a year on your energy bills and giving you a cosy, warm environment that will keep you satisfied for years to come.
What is a composite door made from?
When updating your home's entrance door, it is difficult to go wrong when you choose a composite door. They are made by combining a range of high-performing materials such as uPVC and timber to name a few with each one chosen for its specific properties. This combination of fused materials results in one of the strongest, most energy-efficient and super-secure doors available on today's market.
How secure is a composite door?
Our composite doors really are head and shoulders above other styles when it comes to security. The combination of their GRP exterior and solid timber centre creates an ultra-secure barrier. Our Britdoors boast a central deadbolt locking system and a hardened steel hook bolt. We also install the Solidor brand of composite doors, which are fitted with AV3 automatic multi-point locks and Ultion lock cylinders, which both help protect your home from unwanted entry. An Ultion lock cylinder is one of the strongest security mechanisms because when it detects an attack, a hidden lock within the Ultion automatically engages so that even when snapped twice, nothing gets past it.
A range of composite door designs
Create your dream front door by combining a huge range of quality door knockers, handles, and spy holes. Would a 'Black Brown' door with gold hardware suit your style? Or maybe you'd prefer a crisp 'Peacock Blue' door with a graphite handle and letterbox? Whatever your taste, we can create the perfect composite door for you and your family!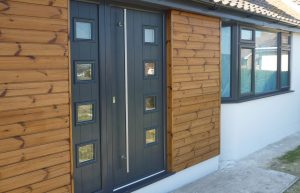 Doors fit for any purpose tailor-made to your Dorset home
When looking for replacement doors for your home in Poole or the surrounding areas, Poole Joinery is the perfect place. Our varied selection of door materials and styles, from composite doors to stable doors are suitable for any style and practical requirements. Whatever your personal preference, we are confident that we can help you. Get in touch with our expert team on 01202 661299 or fill in our online quote form. 
If there's anything we haven't answered here you can also check out our door FAQs.
Read our related blogs:
What are the 4 advantages of a composite door?
4 reasons to choose bifold doors
Should you choose aluminium bifold doors or uPVC bifold doors?