When you're looking for a high-quality home or business property improvement, there's nothing better than being able to see and appreciate the quality for yourself. With this in mind, we thought we'd share a stunning local case study with you that we're incredibly proud of.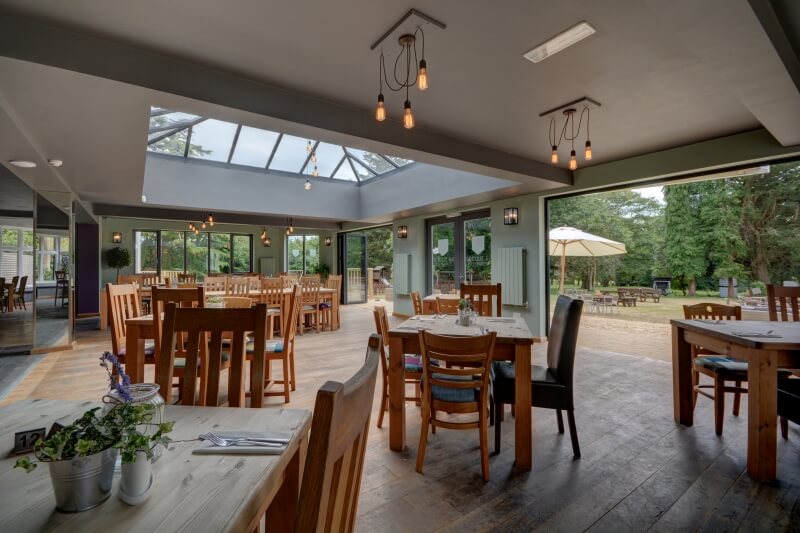 Back in 2015, our expertise was called upon to renovate The Dudsbury County Club restaurant area, in time for their opening night. Working alongside Fiona Merritt of Fiona Interior Design and building contractor Richard Markland and his team, the project brief called for a seamless transition between the restaurant and the glorious outdoor terrace space, combined with lots of natural light to create an impressive illusion of height. With a strict deadline of just 3 weeks to complete the work, time was of the essence!
Gorgeous glazed rooflight, perfect for residential or commercial premises throughout Dorset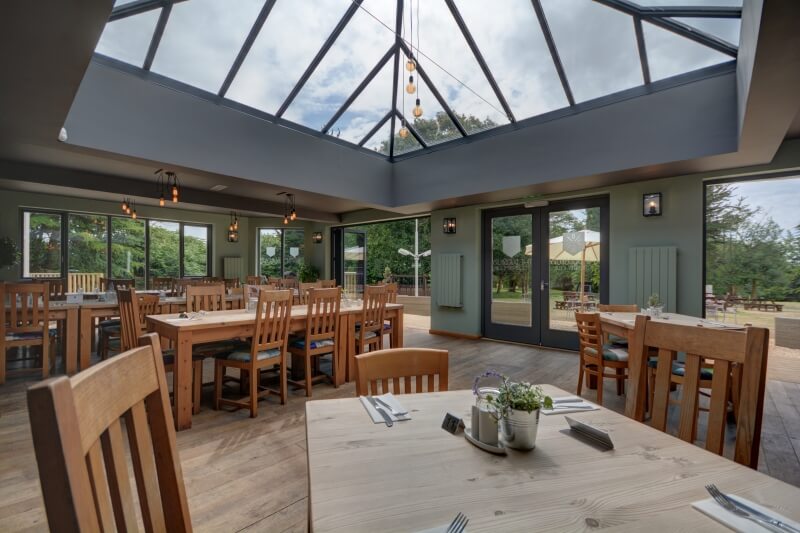 Considering the low concrete ceiling and the design brief requirements, a central rooflight was the perfect solution to transform the space and create a modern, friendly and informal atmosphere for all. Working closely with Richard and his team, they carefully cut a large hole in the roof to accommodate the rooflight, which featured low maintenance Pilkington Activ self-cleaning glass for complete peace of mind for the owners. Outlined by on-trend Anthracite Grey aluminium framework, complete with discreetly hidden lighting hung from the middle, the graceful Georgian style rooflight is an enlightening scene to behold.
Aluminium bifold doors accommodate high traffic areas in need of style and sophistication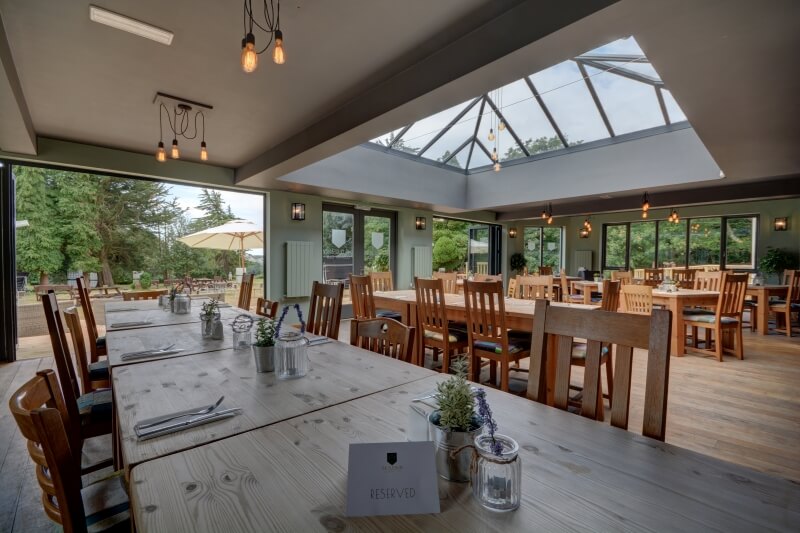 Playing an integral role in providing spectacular structural design features to forge the most unforgettable space possible, we specifically advised upon the installation of aluminium bifold doors. Exquisitely suited to high usage areas such as this, they thoroughly fulfilled Fiona's primary objective of seamlessly uniting the internal and external spaces together. Enviably illuminating the dining area and opening it up even more, the combination of expansive rooflight and two sets of four-pane bi-folding doors, positioned either side of the existing central French doors, is an incredibly welcoming sight.
Striking orangery restaurant in the heart of East Dorset
Absolutely thrilled with the results, Dudsbury Country Club Managing Director Paul Potter said:
"It's amazing.  The Dudsbury nests on wonderful woodland gardens and Poole Joinery have captured that inside.  They have transformed an old tired public house into a fabulous orangery restaurant and bar, where you can sit and have dinner under the stars. Providing a professional high-end service, Poole Joinery is the only company I would choose to use."
Originally featured in House Magazine, if you've been inspired by this awe-inspiring Ferndown case study, be sure to book an appointment to visit our showroom, get a quote or contact us to discuss your property improvement options further. Trading for over 25 years and providing comprehensive 10-year work guarantees as standard, Poole Joinery truly is 'the name you can trust.'
Related to this post: Aluminium bifold doors vs uPVC