We're often approached by professional private developers to assist in bespoke new build projects throughout the Dorset area. Supplying and installing high-performance home improvement solutions is what we do best, so if you're searching for valuable inspiration for your own contemporary home improvement, the following case study is sure to motivate you.
In 2017, our services were required to assist a local builder and private developer with an extensive renovation project on a 4-bedroom detached new build, located in the Ferndown/Ringwood area of Poole. The project brief called for the Poole Joinery team to supply and fit high-quality windows and doors throughout, as well as a fantastic roof lantern to transform the open-plan kitchen/living area. Having used us for previous projects, they knew they could count on us to complete the project to the highest standard within the allotted timescale.
Thermally sound & stylish replacement uPVC windows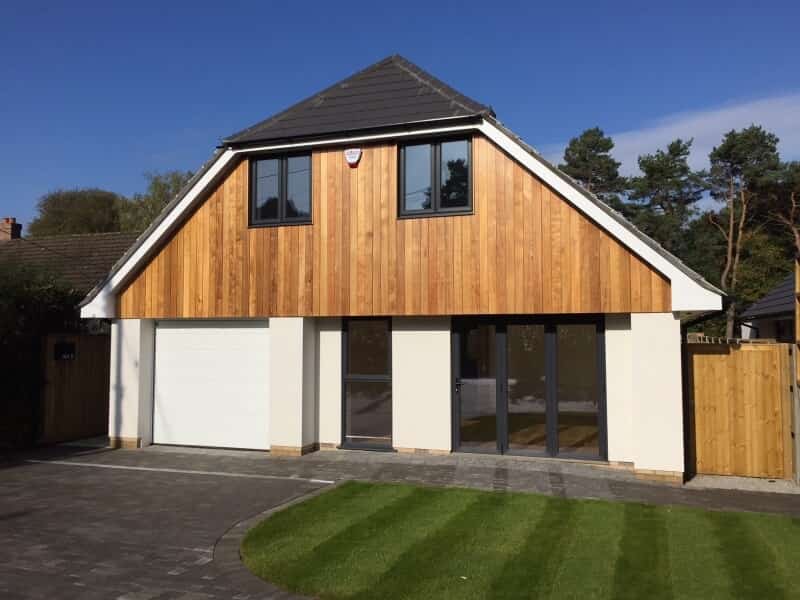 In full compliance with the latest building regulations, all rooms at first floor level (excluding bathrooms/shower rooms) were fitted with opening casement windows of minimum clear size 450 mm x 450 mm, with a minimum area 0.33m2 at a maximum of 1100mm above floor level. Utilising low E-coated double glazing boasting minimum U-values of 1.2 W/m2k, our specialist uPVC casement windows smoothly replicate the look of premium aluminium frames whilst benefiting from the outstanding insulating qualities that uPVC is renowned for.
We're sure you'll agree that the sleek lines of these modern windows truly complement the properties existing modern cladding.
A striking uPVC roof lantern for a stunning project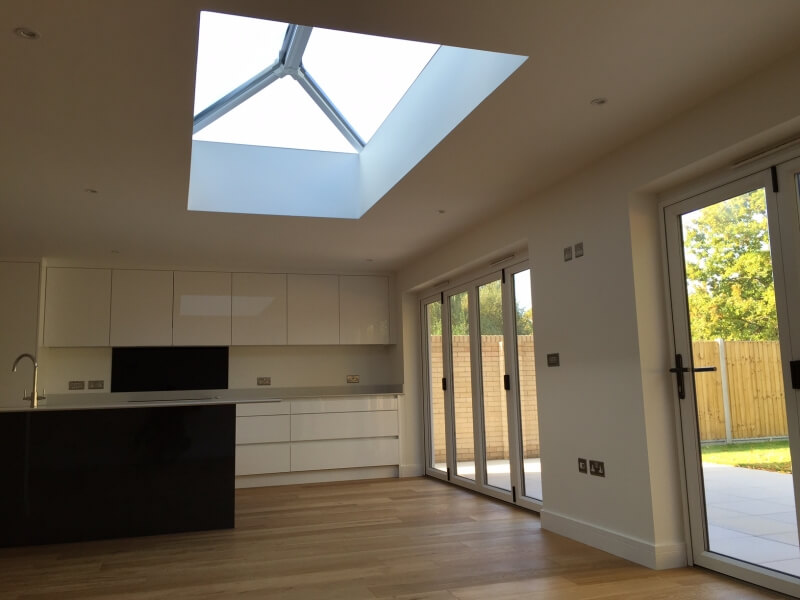 Designed for maximum light intake and minimum energy loss, this gorgeous Ultrasky rooflight was installed to successfully revamp the dull kitchen area into a glorious open-plan kitchen/living space that the whole family can enjoy. Offering minimal framework, the amount of light entering the space is maximised further.
Secure & low-maintenance uPVC bifold doors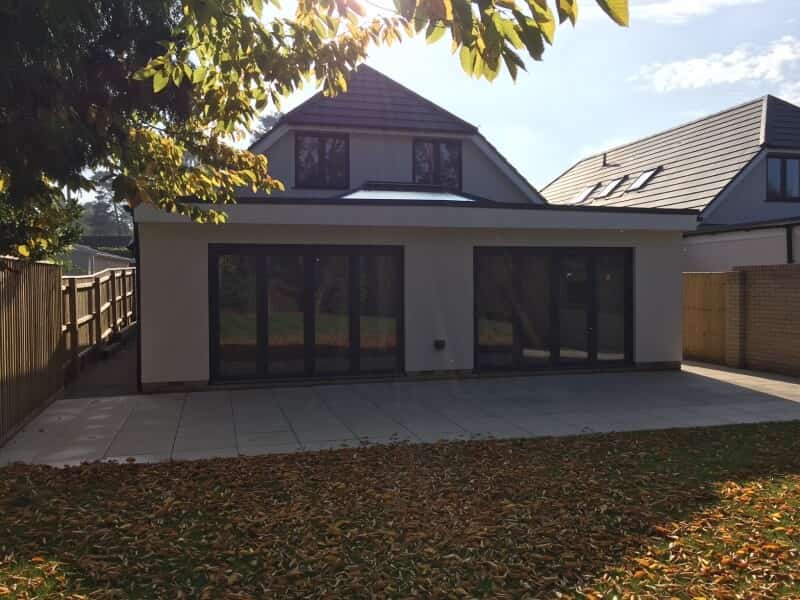 To complete the look, 2 sets of uPVC bifold doors were installed to effectively showcase the magnificent open-plan kitchen/living space. Built from high-performance uPVC, efficient low E-coated glass, with minimum U-values of 1.2 W/m2k, and safety glass was used in full compliance with building regulations. Seamlessly bringing the new kitchen/living space and garden together, entertaining and living here will be an utter dream for the lucky occupants.
Dual-colour windows and doors provide the best of both worlds
Hoping to achieve a consistent modern flourish throughout the building, colour also played an essential role throughout this project. Carefully taking the properties existing features into consideration, dual-colour frames were chosen. Stylish Anthracite grey frames were used outside to deliver a contemporary, on-trend look, combined with fresh white frames on the inside for a neutral finish. Also known as 'two-tone' frames, dual-colour home improvements are becoming increasingly popular with modern and traditional properties alike.
Charming 4 bedroom home improvement in South-East Dorset
If you've been inspired by this stunning Poole home improvement case study, be sure to book an appointment to visit our showroom, get a quote or contact us to discuss your renovation project further. Trading for over 25 years and providing comprehensive 10-year work guarantees as standard, Poole Joinery truly is 'the name you can trust.'
Related to this post: The Dudsbury Case Study – Orangery Renovation