Boasting an ultra-modern, ultra-slim, and ultra-sophisticated style, a set of bifold doors is an aesthetically pleasing addition to any household.
Available in a wide selection of finishes, and colours to match your current windows, here are our top 4 reasons why our bifold doors are great in achieving the 'wow-factor'.
Bifold doors won't interrupt your garden views
One of the most noticeable benefits of bifold doors – and a benefit that is a favourite with a lot of homeowners – is that the doors themselves are mostly glass. This creates a contemporary modern aesthetic, allowing you to enjoy a beautiful, uninterrupted view of your manicured garden.
Boasting spectacular views, bifold doors increase natural light to flow through your home
Bifold doors can make a genuinely positive impact on your quality of life from the increase in natural light and fresh air, to the seamless blending of inside and outside space.
Whether open or closed, bifold doors will allow more natural light to flood through your home, helping to make the rooms feel more open plan and spacious – a feeling that we know a lot of our customers desire.
Keep your home intruder free with bifold doors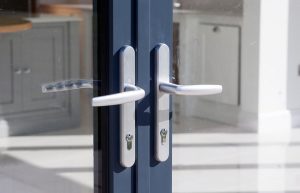 We know what you are thinking "how secure are bifold doors?". A lot of our customers were wondering this question.
That is before we told them about the advanced security on our bifold doors. Each of our bifold doors comes fully equipped with a multiple-point locking mechanism; a system that bolts the door in the frame and locks at multiple points at the turn of a key, giving you and your family peace of mind that you will be safe as houses.
Bifold doors are low maintenance, and exceptionally weather resistance
Bifold doors are incredibly low maintenance – a simple wipe down with everyday cleaning fluid now and then will work wonders in keeping your bifold doors glistening for years to come.
Sleek bifold doors that offer modern style and performance
Consisting of large areas of glazing that open in concertina style, bifold doors make a striking addition to any property. Available in either uPVC or aluminium, our bifold doors will compliment both residential and commercial homes! Aluminium has been the 'go-to' material for commercial projects for as long as we can remember, whereas our uPVC bifold doors are associated with more modern developments, rather than period properties. But the decision is yours – do not delay, get a quote from our team of experts today!
Read our related blogs:
3 beautiful composite front doors (and why you should choose composite!)
Should you choose aluminium bifold doors or uPVC bifold doors?