At Poole Joinery we know that building regulations can be confusing, which is why we are here to share our expertise and help you understand what building regulations are – especially in those conservation areas in Dorset – and the reasons why you need them.
What are building regulations?
Building regulations set standards for the design and construction of buildings to ensure the safety and health of people, more specifically in this case, your family.
Do I need building regulations approval for my home improvement project?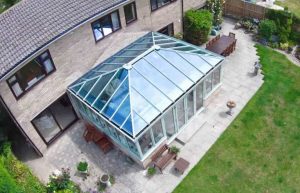 Before proceeding with any home improvement projects, whether that be extending your home to adding a conservatory, it is important to always check with your local council to make sure that any home improvements you are doing comply with building regulations.
Home improvement projects such as extending your home will more than likely require building regulations. Those projects such as buying a new glistening conservatory will not generally require you to apply for local authority approval. It is always advisable to check to be on the safe side.
If I do need it, how long does it take to get building regulations approval?
When a valid application is made, your local council must issue a decision within five weeks. In some cases, however, an extension of time can be given meaning that the period is extended to two calendar months from the date of deposit.
What happens if I do not get building regulations approval before starting my home improvements?
Your local authority must see that any building work complies with the regulations. If for any reason your home improvement project does not comply with building regulations, then you may be asked to apply for retrospective planning permission to then gain building regulations approval.
When selling my home, what impact will it have if I do not hold the relevant building regulation certificates?
It will have a negative impact on the sale of your property if you have made a change that requires planning permission, but you've failed to apply or have it approved.
If the local authority has not approved your home improvement project and subsequently not issued any final certificate, this will become known during the local land search enquiry. Ultimately, prolonging the sale process or even worse, having a detrimental effect on your buyer pulling out of the sale.
So, gaining building regulations approval and being issued relevant certificates is paramount.
Exceptional windows, doors, and conservatories supplied across Poole & Dorset
We know that building regulations can sometimes be very overwhelming which is why our team of experienced professionals is here to help you! Contact us for a free no-obligation advice and a quote that will make you smile.
Read our related blogs:
Does a conservatory really add value to your home?