With their recognisable features such as high-skirting boards, high ceilings, ornate fireplaces and geometric tiled hallways, Victorian properties have held their value over the years and are a thing of architectural beauty. And their colour palette shows their age too! More traditionally the colour palette from the Victorian era included dark, dim and perhaps to some, dingy colours such as mahogany, burgundy and maroon to name a few.
So, how do you modernise a Victorian property?
Embrace the traditional geometric tiled hallway (and replace the front door)
Your geometric tiled hallway is something that offers an ornate original style not available in modern houses. Whether it's a more traditional black and white mosaic pattern, or perhaps a swivel pattern that incorporates the mahogany colour, we'd suggest you keep – and embrace – your tiled hallway!
However, if you are still thinking about updating your hallway but don't know how one way you could do so is by investing in a new front door. This will give your hallway the fresh modern look and feel that you are looking for whilst embracing the original features. And what's even better is that Poole Joinery has a lot of colour ideas to inspire you!
Brighten up the space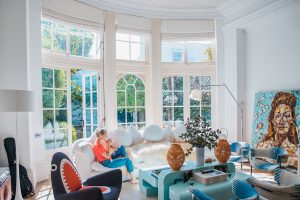 Predominantly known for having darker coloured walls, a relatively easy way to modernise your Victorian house and bring it forward to the 21st Century is by giving the walls a splash of brighter coloured paint. Depending on your preferred colour scheme you could opt for a Farrow & Ball dove grey on the walls, whilst opting for a matte bright white on the high-skirting boards. Sounds dreamy, doesn't it?
By keeping it bright you will modernise the colour scheme whilst giving your rooms a sense of openness – the perfect solution when most of us are currently grounded to our houses!
Keep any antique furniture
Like most styles, the furniture style from the mid-century is currently circling back around, so rather than sell any vintage pieces, try combining these with some modern pieces.
"But it's going to be a mismatch of furniture" I hear you say. It won't be, trust us, it's all about how you coordinate and pair the items together. Try pairing an old antique desk with a modern chair, or even upholstering one of your grandparent's traditional pieces of sofa with updated fabric. There are lots of opportunities to combine the two styles to put your own unique stamp on not only your furniture but your house too.
Replace the windows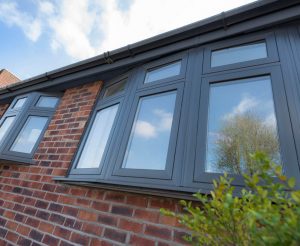 Bay windows are one of the most, if not the most, predominant design features of a Victorian property. The original windows need careful maintenance and you may even find that yours are showing signs that it is time to replace them, so we'd suggest doing exactly that – updating your current windows with our bay windows for a modern look and feel, but without compromising the beautiful characteristics.
Available in uPVC or timber effect frames, our bay windows elegantly illuminate spaces with warming, natural light whilst enhancing far-reaching Dorset views. Contact us and speak to our experts about home improvements to your Victorian or period home.
Read our related blogs:
What can you do to add value to your home?
What type of front door should I choose?